Zeitpunkt              Nutzer    Delta   Tröts        

TNR    

 Titel                     Version  

maxTL


Fr 03.02.2023 00:00:11     1.458       0       55.812    38,3 

graz.social              

 4.0.2      500
Do 02.02.2023 00:00:09     1.458       0       55.634    38,2 

graz.social              

 4.0.2      500
Mi 01.02.2023 00:00:19     1.458       0       55.431    38,0 

graz.social              

 4.0.2      500
Di 31.01.2023 00:00:05     1.458       0       55.198    37,9 

graz.social              

 4.0.2      500
Mo 30.01.2023 00:00:14     1.458      +1       54.969    37,7 

graz.social              

 4.0.2      500
So 29.01.2023 00:00:05     1.457      -1       54.661    37,5 

graz.social              

 4.0.2      500
Sa 28.01.2023 00:00:06     1.458      +2       54.379    37,3 

graz.social              

 4.0.2      500
Fr 27.01.2023 00:00:30     1.456      +1       53.961    37,1 

graz.social              

 4.0.2      500
Do 26.01.2023 00:00:07     1.455      +1       53.720    36,9 

graz.social              

 4.0.2      500
Mi 25.01.2023 00:00:06     1.454       0       53.439    36,8 

graz.social              

 4.0.2      500

Twobiscuits (@twobiscuits) · 11/2022 · Tröts: 546 · Folger: 79
Do 02.02.2023 22:31
Many work steps later ... voila we have attached a strut to the Bagman. The eyebolt is from a post type canti brake. Interestingly the outside diameter of the head is 11 mm, had to get a bit specially to make the hole for it (which is only in the thick outer plate; the other parts only have a 6 mm hole). I cut the thread on the bolt all the way back to the head. <>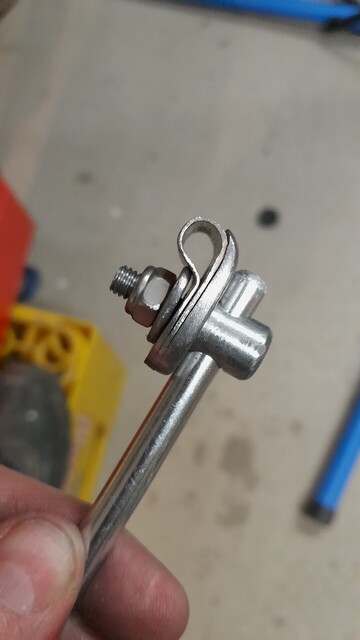 The P clamp with the thick curled part on the outside is now attached to an aluminium rod through the eye of the eyebolt. The P is empty.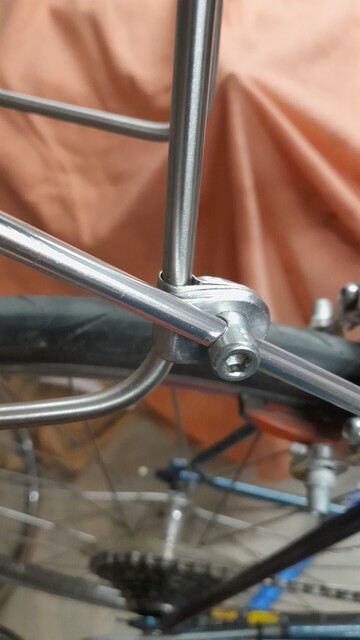 The P is now wrapped around the Bagman saddlebag support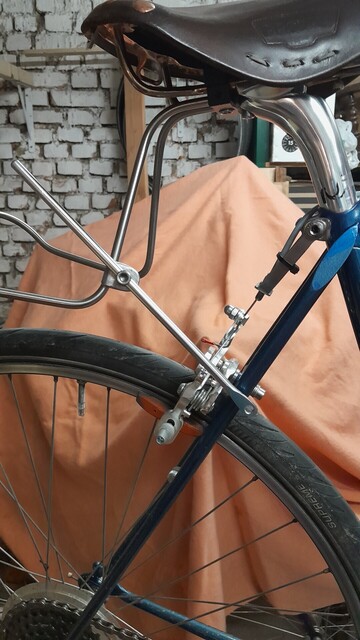 The strut clamped to the bagman points to a spot near the seatstay bridge of the bike.
[Öffentlich] Antw.: 0 Boosts: 0 Fav.: 0 · via Tusky